creator of industrial solutions for insulation boards
Solution for the production of insulation boards: Our industrial solutions allow you to produce and package your insulation panels. To clarify, we provide solutions for XPS, EPS, PUR/PIR, PET, mineral, and bio-sourced materials. 
Fully customized systems for insulation boards production
Solution for the production of insulation boards: Supplier of production lines. Above all, we propose our services to provide you with a high quality solution for your application: automated production and handling of your insulation production line.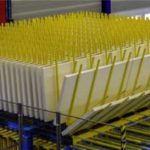 For example, on this XPS line, we integrated many production machines :
Haul off
Flying knif
Cooling tower
Fold planer unit
Thermobonding
Groover unit
Planer unit
Miling unit
End trim
Bundle stacker
All our mahines to product insulation boards
Our solutions allow you to cool, cut, mill, trim, groove, plane your boards and package finished products. 
Production solutions adapted to your needs
Schermesser Group has been an integrator of industrial solutions for over 40 years. Therefore, opting for Schermesser Insulation means opting for expertise and industrial knowledge. 
You have a project for an insulation production line : send us your request!
Send us your request about insulation boards production
We will be pleased to answer you as soon as possible
Schermesser Insulation's latest investments & innovations: New fields of activity and new machines.
Becoming increasingly popular thanks to the growing interest with products that have a low impact on the environment.
The objective in developing this technology is to be able to offer a solution to produce thin boards with high insulation properties.
Mostly not used as insulation material. Due to the high stiffness and density normally used as a building material.